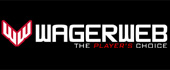 WagerWeb has had an up and down history in the offshore world, but after bailing out Legends Sportsbook clients last year, it seems to be headed in the right direction. Its ratings have improved across a number of industry sites, so let's hope for the best.
WagerWeb is licensed and regulated in Costa Rica. The company changed its domain from WagerWeb.com to WagerWeb.ag several years after the UIGEA to avoid domain seizure from the US government. Its day to day operations were not affected during this transition.
The sportsbook was one of the first servicing US players to add mobile sports betting options for bettors, as well as offering its racebook and casino via mobile. WagerWeb's mobile platform is a no-download client that is optimized for a number of devices, including both Android and Apple platforms.
Top Features
One of the top aspects of WagerWeb's mobile application is the familiarity to its desktop betting platform. It is extremely similar in layout, which keeps things familiar for bettors. The application is fast, user-friendly and one of the better platforms in the US market.
Speed is one of the most crucial aspects when programming a mobile betting site, and WagerWeb passes with flying colors there. It is streamlined perfectly, and there is a setting that lets bettors fast-track their wagers without having to confirm each individual bet.
All the standard features are there, including betting history and account settings. Bettors cannot withdraw via the mobile site, but they can deposit using a credit or debit card. This is a negative, but as I stated in my other reviews, most US market based mobile applications do not offer the ability to withdraw via mobile.
Bettors will have the full list of markets that WagerWeb offers, along with live betting markets. The odds are updated by the minute and on-the-go bettors will be able to wager on everything the book has to offer.
Presentation
WagerWeb's mobile site is essentially a scaled down version of its impressive .ag desktop betting interface. There are four main buttons across the top of the screen for the sportsbook, racebook, casino and account settings.
The sport markets are laid out well, with the most prominent bets for the evening near the top of the page. Making a selection and selecting your bet type can be done in record time. Kudos to WagerWeb's staff for designing not only one of the most straightforward betting platforms, but also one of the fastest.
Betting Markets
Though WagerWeb accepts players from all over the world, the vast majority of clients are from the United States. This means a heavy focus on US betting markets, but not forgetting international markets. Though most props, futures, and other exotics will be focused on leading US sports, there are still basic markets for plenty of international leagues. Soccer is the most represented, with betting markets on the English Premier League, World Cup, Champion's League and other domestic leagues across Europe.
Bonuses and Promotions
WagerWeb allows players to choose their bonus when depositing, which ranges from $100 to $300 depending on the amount deposited. The top first time deposit bonus is currently 100% up to $1000. The book offers many seasonal promotions as well, including reloads and referral bonuses.
Final Thoughts
WagerWeb's history in the offshore betting industry has been suspect, but recent reports have been more encouraging. Its bailout of Legends Sports' customers was excellent for the industry, even though it imposed a large rollover. As far as the mobile betting markets are concerned, it has one of the best products for US bettors. Only time will tell if its service will match its excellent betting platforms.