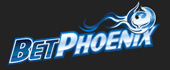 BetPhoenix has had an up and down history in the offshore world. The sportsbook has been regarded as a slow-pay or scam by some watchdog sites. However, over the past two years, the company has improved its payout speeds and paid off some longstanding debts to players. While it is certainly not a recommended sportsbook, it seems to be making strides to improve its image.
Licensed and based in San Jose, Costa Rica, BetPhoenix is a subsidiary of the BetPhoenix Entertainment Group, and they accept players internationally. The company offers its casino and racebook via a no-download mobile option.
Since there isn't an application that needs to be downloaded, the site works with any device that has an internet connection. This includes Android, Apple, Windows, and other platforms.
Top Features
BetPhoenix's mobile betting platform is about as basic as it gets. It is missing some key features that many other mobile sites and apps offer, but we still give the team credit for at least getting something out there for their customers. However, improvement in their mobile product should be a clear priority for the sportsbook.
It is tough to give this application too many high marks. It certainly is not innovative, but one positive aspect is that the platform has so little going on that it is quite fast. Its speed is on par with some of the fastest and most efficient mobile interfaces.
That is about the only positive aspect in regards to BetPhoenix mobile. Customers can't even deposit on the mobile application, let alone have a withdrawal option. The features are few and far between. Bettors can view their current bets and account history but that is about it.
The goal of a mobile betting application is the ability to bet on-the-go, and if need be, to fund your account through your mobile device. I have yet to review a mobile option that does not allow players to deposit. BetPhoenix is the first and hopefully the last.
Presentation
BetPhoenix's desktop betting interface is much more desirable than its second tier mobile product. The color scheme is the same, which is also where the similarities end. The mobile site is easy to use and navigate through, but that is simply because of the lack of information and options available to players.
Placing bets starts off by choosing your bet type, market and making your selection(s). From this standpoint, the site works adequately but is again nothing noteworthy. It looks as though the team slapped together their mobile options in a few hours, and simply filled out a template with their markets and added some security. There is zero imagination in the finished product, and it is especially not visually appealing.
Betting Markets
As far as I could tell, it appears that every market BetPhoenix offers is available on the mobile site, including live betting markets. The sportsbook offers a large variety of bet types, including parlays, teasers, round-robins, if-bets and more. While US-centered sports tend to have the most options, other markets are not far behind. There is an extensive list of soccer leagues from across the world, plus international events such as the World Cup or Olympics. In addition, there are about a dozen more sports available for betting.
Bonuses and Promotions
BetPhoenix has several different deposit bonus options for players on their first deposit. The most notable bonus is a 100% Deposit Bonus up to $1,000. This comes with a 12x rollover, one of the largest online.
Final Thoughts
BetPhoenix is not a sportsbook I would recommend to players regardless of their mobile betting options. While recent reports have been better, this book has a reputation that makes it a risky proposition. As far as mobile betting is concerned, this is one of the worst options for bettors, even in the much maligned US betting market.