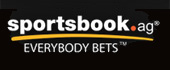 Sportsbook.ag has a long history in online gambling and has been in business since 1996 (as Sportsbook.com). While it was once regarded as a top sportsbook (pre-UIGEA), its recent history has been tumultuous. Specifically, some players have complained of slow payouts in recent years. Still, the book has had its fair share of positive press and has a lot to offer.
Sportsbook.ag was formerly Sportsbook.com, but the site changed domains after laws were passed in the United States regulating online gambling. In addition to its mobile sportsbook, Sportsbook.ag offers a mobile online poker room, casino, and racebook. The company is based in Antigua and Barbuda, and is licensed by the Antigua Gaming Commission.
The company began offering a mobile product rather early into the mobile betting craze. The site is a no-download, browser based program, which works on any available Android, iPhone, Windows Phone and other devices.
Top Features
After using many other mobile apps in the US market and internationally, I have a decent feel for which sites are on the cutting edge of mobile wagering and which are just going through the motion. Sportsbook.ag is a bit of both.
The most notable feature is the availability of markets and options that players have via mobile. All betting markets that Sportsbook.ag offers are available for mobile bettors, including live betting or in-play platform.
Bettors can instantly view the latest bonus offers by clicking the 'Promotions' button, along with their account details. Unique to Sportsbook.ag's mobile app, at least in the US market, is a 'Favorites' button which allows bettors to star markets that they are most interested in betting. Players can quickly view their account history, current betting ticket and account details via mobile.
Players can deposit, but cannot withdraw with the mobile site. Interestingly, instead of the ability to withdraw being a feature, Sportbook.ag has included a 'Cancel Withdrawal' button. This is in case bettors wanted to cancel their current request on the go. While this is amusing, it undoubtedly causes the platform to lose some points in my eyes. Rather than creating an almost useless feature, why couldn't developers instead add the full range of withdrawal options?
From a practical standpoint, the platform works well but it is far from "cutting edge." Linking up bets and confirming wagers is a simple process, and the speed of the application is just adequate. Depositing via VISA card takes just a few seconds. Placing bets through Sportsbook.ag's mobile platform is not a glamorous experience, but it gets the job done.
Presentation
Again, there's nothing remarkable about this mobile platform. There are sports, casino, horses, poker and deposit buttons across the top of the application, making it easy to navigate through the sections. It is easy to add bets to your ticket and then convert them into parlays, teasers and other types of bets.
Overall, the look and feel does not ooze professionalism, and the product does not look as sleek or perform as well as Sportsbook.ag's desktop interface. Things could be a little more streamlined and easier to use. The formatting for mobile use and layout are both okay – color scheme is just a black and white contrast, but I expected a little more.
Betting Markets
Sportsbook.ag has an extensive list of betting markets that are all available for mobile wagering. The mostly US-focused sportsbook is heavy on the larger American sports, with most prop bets, futures, and live betting markets focused on football, basketball, hockey and baseball. Other popular markets are mixed martial arts (MMA), tennis and auto racing. Entertainment and politics markets are also offered.
For those looking to bet on international events, all popular international soccer events are available, along with several domestic leagues around the world. Overall, Sportsbook.ag offers an extensive list of markets.
Bonuses and Promotions
First-time depositors will receive a 50% Deposit Bonus up to $250 when they make their first deposit. The book is also one of the few to offer a promotional bonus related to its mobile platform: Place a wager up to $25 on the mobile site and be credited with a free-play of the same amount. These promotions are one of the many Sportsbook.ag offers throughout the year.
Final Thoughts
Leaving the history aside, the Sportsbook mobile betting options are just about average. A free wager for betting on the Sportsbook mobile site is admirable, but its tagline for "a whole new level of mobile gaming" is quite far from reality. This mobile betting platform isn't even in the upper tier of US-facing sportsbooks, let alone the much more sophisticated products of regulated European bookmakers.