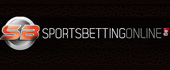 Although it is fresh on the scene, SportsBettingOnline.ag has already made waves in US online betting markets. The sportsbook that can also be found at SBO.ag has some of the most impressive deposit options online.
SBO is one of the only sportsbooks in the US market to offer deposits in Bitcoin as well as the US dollar, and to allow withdrawals. Its clients are mostly from the United States, but SBO also accept players internationally. The company is based and licensed in San Jose, Costa Rica.
Because SBO.ag was established in 2013, the book premiered a mobile platform during its launch. It is a no-download browser supported mobile sportsbook, and basically works on any mobile device that has an internet connection. This includes Android, Apple and Windows products. In addition to its sportsbook, SBO also offers a mobile casino and racebook.
Top Features
For a smaller and newer sportsbook that just burst onto the scene, SportsBettingOnline.ag does an excellent job of producing a mobile betting platform. Its mobile betting options have a few perks that are rarely seen by its competitors.
Among the most impressive is a live scoreboard on the front page of the app that allows bettors to view the real-time stats and scores of every major US sport, which includes college and pro teams. While this might seem like a simple feature, only a few US-facing sites offer live streaming scores in conjunction with their sportsbook offerings.
The site is fast and is one of the more professional products for US bettors. Its interface allows players to wager every market that SBO.ag has available. It perhaps suffers from a little too much clutter at times, but that is only because it offers a ton of betting options.
Aside from betting markets, the site allows players to check their recent bet history and pending bets. An enormous plus is also the ability to both deposit and withdraw via mobile and not just by credit card. Players can get information for person to person transfers, and deposit with the virtual currency BitCoin.
Presentation
The mobile site borrows from the color scheme of the desktop page, with a neat black and white contrast. Although the site has a polished look, it does suffer from a few design flaws.
One issue is that bettors have to choose their wager type before viewing the betting markets. This clearly is not a deal breaker, but it does add another step and does not give players a chance to bet on the fly.
Overall though, the layout is a strong one. The amount of information on each page may be too much at times, but this site scores big on presentation and backs it up in functionality.
Betting Markets
Like most sportsbooks that have a primary player base from the US, SBO focuses on football, basketball, hockey, and baseball. Most player and team prop markets are focused on these events. Mixed martial arts (MMA) and tennis also have a large list. Even with a focus on American sports, SBO has a strong list of international markets. These are mostly focused on soccer, but extend into more obscure sports such as handball or volleyball.
Bonuses and Promotions
SportsBettingOnline has one of the most innovative and potentially profitable promotions in the online sportsbook world. It offers 5 – 10% cash back (with a 50% deposit bonus) to players each and every week. This is independent of wins or losses, and is instead on the gross amount wagered. This can easily add up to hundreds or even thousands of dollars per month in reimbursements.
Final Thoughts
When I originally was tasked to review SBO's mobile offerings, I thought I would be disappointed. Because it is a newcomer in the US betting market, I did not expect much. However, I was dead wrong. Not only does its mobile options exceed most other rooms in the US market, this sportsbook has a lot of reasons for sports bettors to be excited. It has one of the best bonus/VIP programs around and more deposit and withdrawal options than most US books, along with impressive mobile options.