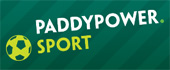 Paddy Power is one of the world's largest online books and is famous for some of the most competitive odds online. The Irish based outfit is well known for its "Money-back specials," promotional betting opportunities. These are often +EV for punters, which if bet correctly are sometimes vig-free or near vig-free bets.
It is one of the most trusted names in online betting and is licensed and regulated by the Alderney Gambling Commission, which ranks among the most stringent gaming bodies in the world.
Paddy Power is a publicly traded company on the Irish and UK stock exchange. It was formed all the way back in 1988 when a trio of Irish bookies merged to form the company. The parent company is Power Leisure Ltd. and Paddy Power is headquartered in Dublin, Ireland.
Currently, Paddy Power offers both a mobile web site and downloadable application. Users with Android, iPhone & iPad, and Nokia Ovi will be able to download the app. Users with Blackberry and other mobile devices will be able to use the Paddy Power mobile site.
Top Features
Paddy Power was one of the first to premier a product on the mobile scene and has continuously worked to improve its mobile offerings since its inception. Its mobile options are among the most advanced in the industry.
One of the coolest things about Paddy's app is the top 10 most popular markets. These are listed on the front page of the app or mobile site and always keep punters on top of the day's hottest betting action. Bettors will also be able to tick their favourite markets and have them easily accessible once they log in.
Paddy Power offers thousands of live streaming horse races that can be viewed live on Paddy's mobile app, making it a must have for pony bettors. Races stream from all over the world, not just the UK. Punters can view live races from Ireland, South America and even Dubai.
As we mentioned above, Paddy's mobile options are leaps and bounds ahead of the competition in some cases. Another great feature is the ability for punters to focus their mobile device's camera on a televised match. The Paddy app will then recognize the event and instantly provide live odds to the player.
Speaking of live odds, Paddy Power gives bettors the ability to live bet on the game and has one of the best in-play betting interfaces around. No matter where you are in the world – if you have an internet connection – live betting is just a few clicks away.
All the regular features of your PaddyPower.com account are available in the mobile options. Checking your account balance, depositing and withdrawing, and contacting support can all be done easily. Virtually all the functions of your normal PaddyPower.com account can be done in mobile options.
Presentation
Paddy Power's mobile app and webpage use the same green and white color scheme to which Paddy's customers have grown accustomed. The Irish themed colours aren't the flashiest thing in the world, but the application looks polished and professional. More importantly, it is one of the most fluid apps we've had the pleasure of using and appears to be thoroughly bug free.
One could even make the case that Paddy Power's mobile options are better designed than its traditional webpage. It is simple to use; finding your market could not be any easier.
Paddy lists its top promotions and money-back specials on the front page of the app which can be bet via mobile. Punters will be able to take advantage of Paddy's industry leading promotions no matter what platform they use to bet the games.
Betting Markets
Paddy Power has more of a UK & Irish focus, which is excellent if you are betting on mostly UK or Irish sports, but can make some bettors from other countries feel left out. Most of the promotions are centered on these sports, so that is another factor to consider. However, the book offers odds on nearly every sport in the world.
Users betting on their mobile devices have the full range of betting markets that are offered on PaddyPower.com. Football, rugby and GAA sports have the largest number of markets, followed by other European football leagues and international matches. US sports are also widely covered, and Paddy Power normally offers promotions for popular games. Entertainment and politics markets are also fairly extensive.
Bonuses and Promotions
Paddy Power does not give out large deposit bonuses like many other online bookmakers, but that is more than made up for with constant promotions for a variety of markets. New bettors will receive a €50 free bet when they make their first deposit. Mobile promotions do come and go, so it is crucial to stay on the lookout for these.
Final Thoughts
Rarely do punters and industry experts hear complaints about Paddy Power, and that is for good reason. The sportsbook has a sterling reputation in the bookmaking industry and has been a leader in the industry since the late 1980s. Its foray into mobile betting has, unsurprisingly, been a massive success.
Not only is this mobile app one of the best offered, but Paddy Power has some of the best odds online and a top notch 24/7 customer service staff. Few sportsbooks offer the complete package that Paddy Power does. Its mobile application is just another successful product from the storied Irish bookmaker.