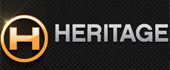 Heritage Sports is a unique site in the offshore industry: As of early 2014, it is solely an invitation only online sportsbook. However, this does not mean it does not have a large player base. The sportsbook took on all of TheGreek.com's US-based customers after they left the US market years ago. Heritage Sports has a strong reputation in the industry and has always paid players quickly.
Although Heritage accepts customers through invite only, it services millions of bettors from around the world. Based and licensed in Antigua, Heritage is widely trusted, especially by US clients. It offers an online casino, poker room and racebook.
Like most US-facing sportsbooks, Heritage has a mobile website rather than a downloaded mobile app. This makes its mobile offerings simple to use on just about every platform, including tablets, cell phones and nearly all mobile devices.
Top Features
The sportsbook first premiered its mobile site in 2012, which was touted as "the best mobile application in the business." Well, Heritage does have one of better looking mobile sites online, but is going overboard calling this product one of the internet's best.
The best aspect of the site is that it allows Heritage's customers to bet on all available markets. This has become the standard for most betting applications, but it is worth noting that the formidable live betting interface is also available in a scaled down mobile format.
Placing bets is simple and quick. Choosing from a straight bet, side, or total and turning selections into a parlay or teaser is painless. Bettors can easily buy points as well. Overall, the speed of the site is impressive, perfect for mobile betting. In addition, viewing open bets, account information and betting history are all part of the package.
There is one crucial complaint I have with Heritage's mobile site. It does not allow any banking options – neither deposits nor withdrawals. Most sites do not offer withdrawal options on their mobile products. To a certain extent, that is expected in the US market. However, I have yet to come across one without a deposit option.
It is a shame because the app otherwise is truly impressive. Without a single deposit option, this puts players in a tough spot when they are out at a bar or just can't get to a computer before the game starts. Every other mobile application or site allows bettors to fund the account within minutes.
Presentation
The application looks similar to European-based download only applications, and that is a compliment. It is straightforward and one of the easiest mobile betting platforms we have used.
The welcome page has a list of the top betting events for the evening, and the schedule of what time everything starts. Bettors can jump right in and bet on these events in seconds. Navigating around the site is simple, and the color scheme and background give it a pleasant professional feel. Overall, there is little not to like from a design or visual standpoint.
Betting Markets
Heritage is a heavily US-focused sportsbook, more so than any other of our mobile reviews. While it offers few international markets, there is a heavy load of markets for all American sports, including both college and professional leagues. Live betting, team and player props and futures wagered are extensive, and Heritage offers some of the most competitive odds online.
Bonuses and Promotions
Heritage is not heavy on deposit bonus offers but has some of the best promotions in US betting markets. Players will receive reduced juice promotions, and be able to earn 8% cash back on all of their wagers (win or lose). This goes along with increase teasers odds and 8 cent baseball lines.
Final Thoughts
One has to be impressed with the reputation Heritage Sports has built for itself over the past two decades. It is easily one of the most trusted sportsbooks online – not just for Americans, but in international markets as well. There is no doubt it is an excellent choice for sports bettors.
Still, this mobile betting platform is in the middle of the pack. The site has a professional look, but lacks the ability to deposit or withdraw from a mobile device. That drawback is tough to ignore. Overall, the site does it job fairly well, but lacks some basic features to put itself over the top.