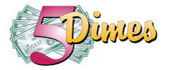 5Dimes Sportsbook has long been a mainstay in the offshore industry – not just for US bettors but those located internationally as well. A member of the 5Dimes Group of gambling sites, the company runs a large office in Costa Rica and has established itself as one of the world's top sportsbooks.
5Dimes has been online since 1999 and has become one of the most trusted names in the business, offering players an online casino, racebook and poker room (in addition to its sportsbook). It is famous for its Reduced Juice Bonus and nearly unlimited number of markets.
Now, 5Dimes has a no-download mobile version of its sportsbook at 5Dimes.mobi. This works on any mobile device with a web browser, including all Android smartphones, Apple Products such as the iPad and iPhone, and other devices. As long as the device has an internet connection, it can access 5Dimes mobile.
Top Features
Despite its substantial number of markets, 5Dimes managed to fit all of its betting options into one mobile application. Unfortunately, this comes without any of the flash or convenience that many other sites offer in their mobile products.
5Dimes' interface is strong and bug free (as far as I can tell), but looks like something that was developed ten years ago. It has a plain-looking betting menu that simply is not as advanced as other mobile sites.
It is not clunky or hard to use, but moving through pages of markets is not as quick as I expected. Again, there are a lot of markets, and that is a marvelous thing for sports bettors, but I was hoping for far more from 5Dimes.
The positives are that bettors can do virtually everything from the mobile site. This includes depositing, withdrawing, live betting markets and every other feature offered at 5Dimes.eu. Players can view their current and pending bets, bet history, account transactions and even change their password.
Presentation
5Dimes mobile is essentially identical in design when compared to the .eu desktop page. While it scores plenty of points for familiarity within its client base, the mobile site is virtually unchanged from the desktop version. It is optimized to fit onto a mobile screen, but other than that there is no discernible difference.
The betting menu is laid out exactly the same. The betting markets are listed on the center of the main page with betting types listed on the left. The app works, but it is not what you would expect from a sportsbook of 5Dimes' caliber.
Since the desktop betting menu is laid out the same way, perhaps the people at 5Dimes are not interested in updating it. With the company's longevity and strong track record, who could blame them?
Betting Markets
Like most US-facing sportsbooks, the focus is generally on US based sports such as the NFL, NBA, MLB, and NHL. MMA markets have increased in popularity in recent times as well. 5Dimes famously has odds on Division II NCAA Football, and at one time offered high school football lines. Every domestic soccer league in the world is covered, along with international contests.
Parlays, teasers, if bets, reverse, alternate lines and everything else under the sun are available to bettors at 5Dimes. This is easily the best US sportsbook for someone who loves to bet on every aspect of an event.
Bonuses and Promotions
5Dimes offers seven different bonus options to players, but by far the best option is the Reduced Juice Bonus. This is the default bonus that players will be assigned when they make an account at 5Dimes. While bettors receive no deposit or free-play bonus, they will be able to use 5Dimes' reduced juice markets for the lifetime of their account. This bonus is easily worth thousands of dollars in vig.
Final Thoughts
There is no doubt of 5Dimes' place in the offshore hierarchy – it is one of the best in world, US-facing or not. They have never been late on payouts in over 15 years and offer perhaps the most competitive odds for US bettors. However, those who want a fast-paced mobile app of the future will almost surely be dissatisfied with 5Dimes' product. It still offers bettors adequate options and their full list of markets, but it is disappointing compared to other mobile applications in the US market.