Welcome to MobileBettingSites.com,
Our objective at MobileBettingSites.com is to offer bettors from all around the world the most comprehensive mobile betting resource on the web. Nothing is hotter than mobile betting at the moment and it is truly the future of online betting. This site is a constant work in progress as we continue to provide up-to-date information on the top bookmaker's mobile apps.
Mobile Betting
The evolution of sports betting has come a long way – from your neighborhood bookie, to legalized betting shops, and now international online betting markets. The first online sports bet was made through Intertops, all the way back in January, 1996. Few could imagine the industry's rise since that time; online betting has become a worldwide phenomenon that continues to grow each and every year.
Mobile betting has become the next step in a natural progression. Nearly everyone has a mobile phone these days, making mobile betting applications a match made in heaven for online bookmakers.
Mobile betting is estimated to account for $12-$15 billion of the global online gambling market. As they fight other operators for a share of this lucrative market, online bookmakers have pulled out all the stops in developing their mobile betting apps. This competitive atmosphere has brought the best out of the industry and benefitted the players greatly.
What Is Mobile Betting?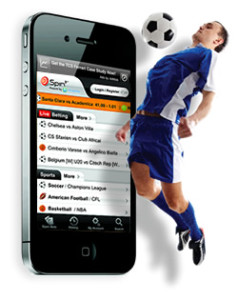 Mobile sports betting is wagering via a mobile device. It essentially insures that if a bettor has an internet connection, a bet can be placed from anywhere in the world.
About five years ago, mobile betting just began to hit the online betting world. While the apps were impressive at the time, they pale in comparison to the streamlined products on the market today. Nearly every sportsbook in the world now has some sort of mobile capabilities, many of which offer more markets and features to mobile bettors than ever before. Mobile betting can be used via a number of platforms. Android, iPhone, Blackberry and a long list of other devices are supported by just about every online bookmaker these days.
Ideally, mobile betting is a scaled down version of the regular main page of an online bookmaker. Many mobile apps offer the same color scheme and layout as their main site in an effort to keep things familiar with bettors and make it more user-friendly and accessible.
Choosing a Mobile Betting App
As we mentioned above, mobile betting has come a long way in recent years. The best mobile betting platforms today are all encompassing. Bettors have the full range of options, just as they would if they were logging onto a desktop or laptop. But with so many options, the mobile betting market can be daunting for new bettors.
Firstly, bettors must choose a bookmaker they can trust, and one that is licensed and well regarded in the industry. The reviewed rooms listed on this site fit that bill and are the leaders in this market. The next step is choosing what features are relevant to you in a mobile betting application.
These days, most online betting applications have the full slate of betting markets that are available to regular non-mobile users. Users can also deposit and withdraw funds and view their account history.
Depending on which bookmaker bettors choose, options and features will vary. Live betting or in-play betting is offered to bettors via most apps, but some bookmakers may not offer live betting to mobile users. Becoming increasingly common is the ability for customers to stream live sporting events via the mobile application. Bookmakers such as Sky Bet stream thousands of live sporting events all year long to mobile bettors, at no extra cost to the consumer.
Also, many online bookies offer unique promotions for mobile users, such as free bets or straight cash bonuses just for downloading the mobile app. These are normally on top of other deposit and sign-up bonuses bettors regularly receive.
Bettors who desire certain features in their mobile app, such as live betting or the ability to bet on all the markets offered by the book, should first check to be sure a prospective bookmakers' application offers these features.
Betting via Mobile
Betting via a mobile device should be self explanatory to bettors who have used online bookmakers to wager previously. Most mobile apps have the same color scheme and similar layouts to the main site, which help make the platform more similar to bettors.
The first step to placing a wager is logging into the mobile betting platform with your username and password. From there, you will be able to view betting markets, make your selection and confirm your wager in a few clicks.
As we mentioned above, online bookmakers today offer a massive list of markets and the full range of betting options. Customers will have little trouble stringing together different selections for accumulators or other more complex betting options.
Most bookmakers offer downloadable applications that are opened independently of your mobile devices internet browser. These can be downloaded through the iTunes store Android marketplace. However, some apps may not be downloadable. They may instead be browser-based sites specifically programmed for mobile bettors. This is more common for US-facing sportsbooks rather than legal, regulated European based bookmakers. In fact, many bookmakers will offer both options – a mobile site in which no download is required and a downloadable application which can be used to bet on a variety of different sports with NFL betting being the most popular one.
What Are the Advantages of Mobile Betting?
As a mobile bettor, you will have 24/7 access to real-time betting odds from anywhere in the world. Mobile betting acknowledges that we lead busy lives and may not have time to sit at the computer screen looking at odds.
Instead, we're out and about, with our family and friends or hard at work at our chosen profession. A few years ago, if we wanted to bet on a match while out at the pub or while finishing a bike ride, we were out of luck. Now, we grab our mobile and quickly fire off a bet.
As mobile betting becomes more and more popular, bettors will continue to benefit from the increased competition. Mobile wagering – not only sports betting but poker and casino as well – is currently the hottest thing in the online gambling industry.
Legality of Mobile Wagering
The vast majority of bookmakers offering mobile wagering are heavily regulated and licensed, and many are publicly traded companies. In most areas, they are legal and operating under the law. However, in some countries, online gambling operators may be operating in a bit of a legal gray area.
Penalties against individual punters for wagering online are almost non-existent, even in areas where the act of online gambling is explicitly outlawed. Regardless, it is advantageous to know the local laws regarding online gambling in your jurisdiction.
Our Goal
Our goal is to provide bettors with the best information on mobile betting applications from the world's top bookmakers. We'll offer unbiased reviews and take a look at the biggest players in the mobile betting market. We hope to become a well respected resource for bettors looking to explore mobile betting options.